ConfirmFolderMove came about because trackpads tend to pick up unwanted movement, including accidentally picking up a folder of 20,000 messages and shifting it somewhere it shouldn't be. It takes a long time to fix that kind of accident. confirmfmv pops up a dialog window before doing any moving, stopping the move if cancelled.
You can turn off the preference (folders.drag.confirm) within the extensions window in case you plan to move a lot of folders.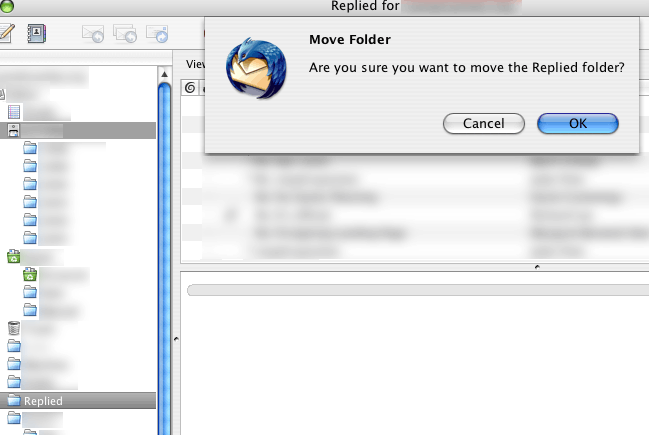 Developers, visit the GitHub page for source and other code management activities.
Download
Please use the Mozilla addons page to download (12KB, version 1.1.2); open up the addons window in Thunderbird and install the downloaded XPI file.
Version Notes
1.0: ConfirmFolderMove seems stable enough for a 1.0 release to coincide with Thunderbird's imminent 2.0 release.
0.3: Added new preference to disable all confirmation dialogs and a German localization, thanks to Dennis Plöger!
0.2: Metadata compatibility for later minor releases; no functional changes
0.1: Initial release.